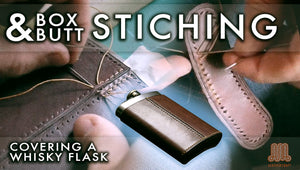 Box & Butt stitch or the art of changing a pumpkins into magical coach!
Fellow Leather Craftsmen, 
I would like to introduce today a very satisfying and traditional stitching method:
Box stitching and Butt stitching!
I guess it is true to say that we see this technique being used less nowadays due to the industrialisation of our craft. Yep, as far as I know, no machine is capable to do this! But remember the camera cases of the elders, those vintage leather hat boxes with handle etc... this technique was used in the past, and sometimes even on widely produced goods!
At this day and age we see fake box stitching or fake butt stitching on some of the mass consumer goods where the stitching is basically decorative and the leather parts just glued together, nice for a short period of time, but quickly the general aspect of the construction will deteriorate as you may have already experienced in your personal life.
True box/butt stitching is fastening firmly both edges with a sturdy thread using the saddle stitching method, and :
... it lasts forever...
... and of course, it is really fun to practice when you know what to do!
Recently, a friend gave me a whisky flask and of course I suddenly thought "this will be the perfect opportunity to practice both techniques" and therefore, here I am with a new video.
I did not practice box stitch or butt stitch for a while and I wanted to make a video tutorial about it for a long time, in fact, I went through the making without any major inconvenience and ended up with a result I am please with.
Feel free to share your experience about this technique and don't forget to follow the youtube channel so you won't miss any of the new videos! 
Click here to access the Youtube leather craft tutorial channel... THANKS!
---
3 comments