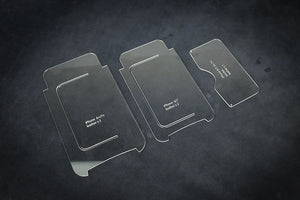 How to use acrylic patterns
Dear Leather crafters, 
We are now proud to produce some acrylic patterns. These are made in a 2mm thick heavy duty clear plastic as we like to be able to see skin defects while cutting. 
You can use them to trace on the leather before cutting but we prefer to cut directly around the edges of the templates, that's up to you.
These are really handy if you really want something that will last forever and to be used for small production batches, moreover it is quite faster to cut using acrylic templates as you don't really need to worry about damaging them.
Slowly the collection is growing and we are offering worldwide shipping, so you don't need to worry about how much it is going to cost you, this is going to be the same cost wherever you live! 
Have a look at the current acrylic pattern collection and do not hesitate to tell us if there is some kind of patterns you would like to be made specially for you contact us.
---
1 comment