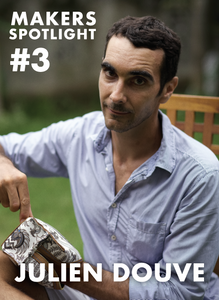 MAKERS SPOTLIGHT #3: Julien Douve
This French craftsman quits his day job, starts travelling around the world with his tools and some leather...
Julien Douve will soon be back to France where he will settle down and open up his own "atelier".
Brief Introduction of yourself and the company:   
AM: Please tell us a bit about yourself, your previous professional experience, where did you learn the trade how you got into it and your location.
Anything you are passionate about or love to do when you are not making leather goods, please tell us?
JD: My name is Julien, I was born in a little town in the north west of France called Saumur. Initially I studied languages and business and then I went on to work in the IT sector selling enterprise software for over 10 years.
I've always loved to fix and make things with my hands, I wanted to dab into blacksmithing or woodworking but I was living in apartments, there was no way it was going to happen.
One day I stumbled upon a few watch straps making videos on YouTube, and looked into the work of David Lane and I remember being very impressed by the beauty of his work, and by the fact that such classy pieces were made entirely by hand and thinking how awesome it would be if I could get half as good as he was at this.
I drove to the Tandy store in Jerez, south of Spain and bought a few tools and leather scraps to get started and binged on hundreds of YouTube tutorials.
It was love at first sight with the craft, I made some horrendous knife pouches and watch straps with crooked stitching and ugly designs, but I was incredibly proud still.
I remember for my first watch strap I actually cut out an old pair of Clarks and used the suede leather and some tiny brass nuts and bolts, it was fun.
So far all I've learnt has been through hours and hours of practices, and the huge amount of free resources available online.
I have recently enrolled in a couple of online trainings as well, and it has been a tremendous help, I definitely recommend having a look at what Philip Jury out of England does on Instagram with his @leathercraftmasterclass. 
Outside of leatherwork, I am a big outdoors fan, so anything from hiking and climbing to surfing, skiing, depending on where I am.
Also, I'm very much into motorcycles, I am a very proud owner of a KTM 990 Supermoto that has been following me around Europe for the past 5 years.
AM: Tell us about your company, how and when did you get started? 
JD: I tried leatherwork for the first time when I was living in Spain in 2015 as a hobby, making wallets, cardholders and custom commissions for friends and friends of friends, but I was growing more and more frustrated with having so little space and time for it - I even stopped completely for over a year because of my job.
Towards the end of 2018 I decided I was going to really give it a go. I quit my job, took my savings and flew to Indonesia with all my tools and dyes and leather, and decided to focus 100% on perfecting my techniques, setting up my online store and getting my work out there.
I am going back to France soon now, where I will be based. It will be easier to access quality leathers and supplies, and for logistics as well.
I come from Anjou, a region in France with a very strong equestrian tradition, with many traditional saddle-makers established for centuries ago.
 AM: Tell us a bit about the products you make, your making process, the leather you use, any personal preferences . 
JD: I focus mainly on wallets, bags and accessories, such as belts, watch straps and travel/dopp kits etc. Everything is handmade, all the cutting, stitching, dying, finishing, all by hand.
I mostly work on a bespoke basis. All the items on the website were original commissions, and I then refine the design and make it available to order, always open to customizations of course.
For new designs, I have a very hands-on approach, usually detail ideas or designs will come up at random times (often when I'm trying to sleep, sadly) and then I'll just experiment with scrap leather first, see how the material will behave and conform with what I had in mind, before making a first full prototype.
I'll document all the steps, mistakes and particular points to pay attention to as I go to avoid making them again.
Usually that prototype will reveal all the design flaws and improvements that need to be implemented to make it visually slicker, cleaner and function better.
This is where I will also gather feedback from others to further enhance it.
Based on all this I'll then make the pattern, and then proceed to craft the final item. 
It is very iterative, and sometimes the final product comes out perfect, other times I had to scrap a finished bag or wallet I wasn't 100% satisfied with, and then tweak the design and start all over. I really need to improve my pattern making game to be better at this in the future.
AM: How does the customer get in touch with you? Do you sell through Internet? Do you also have a boutique or/and a distributor?
JD: There are many ways to get in touch, you can message me on Instagram, Facebook, email...
I keep all contacts with my clients direct, I want the experience to be collaborative from start to finish, as we design a unique piece together. I keep my clients updated regularly with pictures as I move along with the making process.
I like the idea of documenting and witnessing the birth of a unique object that will follow its owners for decades and decades afterwards.
My website, jdleathercraft.com is the main outlet, and I also have an Etsy page, all is done online for now, apart from a few pop up stores I have done in the past.
 I will be setting up a workshop once I am back and settled in France, I want to be able to receive potential clients for bespoke pieces, have a place to sit down in peace and discuss their vision, materials etc. before launching the production.
AM: What is the craziest/toughest project you had to create for a customer? 
JD: The craziest I've ever done has to be one of the first items I made. I needed some kind of tool roll, and after maybe 2-3 wallets I decided for some reason that it was within my reach to replicate the Ferrari F250 leather tool kit…
I think I got a whole side of black stone oil cowhide from Tandy that was way too thick (at least 6 or 7 ounces), it took me about 3 weeks to finish and it's definitely not a refined piece, but it has been carrying my tools faithfully around the world and seems like it will still be around in a thousand years!

Looking back it was a very ambitious project, with a few stitched-in belt keeps, a stitched suitcase handle, gussets etc., it was very fearless to even attempt this with such little skill back then…
 More recently, I think the most challenging piece I was commissioned was a lady's wallet that had to be zipped around, and needed to have 12 individual card slots, a large coin closing coin compartment and a lot of space for bills and receipts, it was very tough to put it all together while keeping it elegant and thin.
AM: What are your future plans/dreams for the workshop? (new machine acquisition/business partnership/designer collaboration/others…)
JD: I have been working from small apartments since the start, basically from bedrooms or living rooms, and recently travelling I had to set up my workspace in very random places.
I'm really looking forward to having a proper dedicated shop, where each tool has its own place and there is a big work table to handle full sides of leather versus cutting hides on the floor, and where I can finally have an arbor press set up.
Business-wise it'll also allow for easier logistics and better access to leather and hardware, so I am able to take on more orders and larger builds.
It's going to be all about growth in the next 12 months.
Let's talk a bit about technique:
AM : What type of product do you enjoy making the most and what about your favorite step in the making it?
JD: I enjoy making rolls, tool rolls, knife rolls, watch rolls etc. I love the function of the piece, the unfolding motion of it, choosing the right leather for each use etc.
Function is a very important aspect, I want to create items that have a real purpose, and that are made to accompany their owner for a lifetime, and beyond.
One of my favorite steps, and one of the reasons I like to use vegetable tanned leather, is edge work, especially edge burnishing. I find it so satisfying to turn a rough fuzzy edge into shiny glass, also because of how it gives such a refined look and feel to the final piece, and because it gives a far superior resistance to water, dirt and scratches to the item.
It all plays a part in making the product truly last a lifetime, I spend more than half the time on the finishing steps of what I make, always trying to get it as close to perfect as I can.
AM: What kind of product you have never made yet but wish so hard a customer is requesting to handcraft for him/her?
JD: I am dreaming of a commission for a full-on leather trunk. I am dedicating most of my free time to learning the techniques associated with it, either leather only or with a wooden core, but something that almost has the challenges of building a piece of furniture. I find these incredibly beautiful yet complex to make, and luggage is definitely something I want to be making more of.
AM: Any favorite tool, why? 
JD: It has to be the Japanese straight knife. I like the raw simplicity of the object itself, the roughly cut handle, with a forged slab of high carbon steel just stuck in it, and yet that is carved and ground to razor sharpness, with the maker's monogram just punched into the blade.
It has such a brutal force to it, yet is one of the most versatile tools I have. I use it for a lot, from primary cuts from the hide to precision trimming of the edges on finished pieces, shaping and rounding corners, skiving edges, thinning leather strips, cutting edges at angles for boxes etc...
AM: In your opinion what is the toughest technique or step in the making of a project?
JD: Aside from skiving (that's a world in itself), attaching gussets on bags must be the most stressful step for me. Basically, you're shaping a straight edge into a round corner and that is unnatural, so you have to somehow force the leather to conform, and for me it is still tricky to keep a perfect clean shape while doing so.
And then you have to stitch 2 pieces that have 2 different radiuses, so you need to precisely plan ahead where your holes will be, and keep the whole thing neat, it's still a challenge here, not going to lie!
AM: Your most valuable advice for beginners?
JD: It's a bit cliché, but practice does make perfect. A lot of it.
There is so much material available online on leatherwork, build along, tutorials etc., all of it very easy to access and a lot of it for free.
It has never been easier to learn the techniques, and then all it takes is work.
Our brain makes us good at what we do, so putting in hours and hours and hours of work will yield results, as long as one keeps at it and doesn't get too satisfied with oneself too soon.
You will find Julien Douve on Facebook, Instagram and on his personal website... Links below. 
Instagram: @juliendouve.leather
Facebook Page: jdleathercraft
Website: www.jdleathercraft.com

Thanks,

Alex
---
10 comments