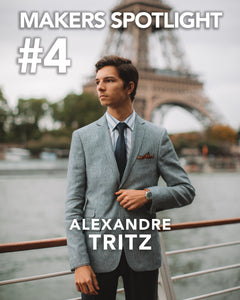 MAKERS SPOTLIGHT #4 : Alexandre Tritz
AM-Leathercraft : Can you introduce yourself in a few words?
Alexandre Tritz : Born in 1996 I grew up in a French Caribbean island (Martinique) and I also studied at a business school there. I discovered leather craft three years ago in the workshop of my uncle in Germany.  He is a knife maker and makes some simple leather sheathes.
After my studies I moved to Paris. I am also a photographer with 8 years experience, I have been leather working for one and a half years and I make a living from these two activities.
Your skills are really good! Where did you learn the craft?
A.T. : I am self taught, I have mainly learnt from carefully observing pictures of leather goods making processes on Instagram.
Can you tell us about your business?
A.T. : I am exclusively making bespoke and handmade products: cutting, stitching and even skiving. Only splitting is outsourced. I am essentially crafting wallets, belts and watch straps.
How did you build your client base?
A.T. : My customers mostly find me on Instagram or Facebook. Then they contact me by email to discuss the project details (design, leather choice, thread color, etc.). I do not have a shop, I work from home. Sometimes, I meet my customers in person in Paris.
Where do you purchase your raw materials ?
A.T. : I regularly buy leathers from Italy, Germany and of course in France as well. It is not so difficult to find what I need, even in small quantities.
What are your upcoming projects?
A.T. : I am planning to get a skiving machine but wish to keep doing all other steps by hand.
Is there a product type that you wish to make more often ?
A.T. : I would love to make bags, but haven't had the opportunity yet to do so, I have already made flat pouches but nothing more sophisticated than that. I am currently working on a brief case. I will learn new construction techniques!
Knives made by Alexandre's uncle
Alexandre Tritz Facebook and Instagram page
---
8 comments