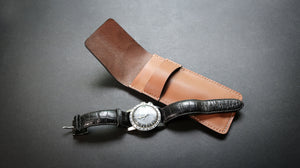 Making a watch pouch
Fellow leather craftsmen, 
In this video I am showing you how to make the simple soft leather watch pouch shown on the picture. 
For this project I decided to use really soft leather as I want to be able to slip in and out easily watches of different size. My choice was lamb outside for its soft touch and nicely tight grain and pig skin inside for its very light weight and low cost. 
I have used a 0.4mm waxed polyester thread that pairs nicely with the number 8 pricking iron and stitched 2.5mm from the edge. 
Notice the little trick in the video to assemble the flap in a curved shape! 
Nothing complicated or skill demanding but for sure a very useful product to store a watch in the drawer of a nightstand or to carry a second watch when travelling around. 
---
1 comment