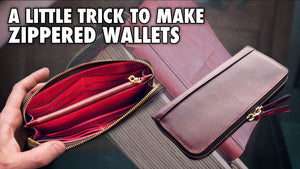 A SOLUTION TO ASSEMBLE ZIPPERS PERFECTLY
INTRODUCTION
Zipper wallets are great as they can hold all kind of useful things and safely, they used to be mainly appreciated by women but I can see a lot of men using them as well now.
There are globally two existing sizes on the market:
• One is long and rectangular and measures roughly 20 by 10 centimeters
• The second one, more compact, is generally square and is about 10 by 10 cm 
We are showcasing here is the larger version, it has 12 credit card pockets, a central zipped section that can hold coins, the wallet is roomy enough to carry a phone as well.
WHATS SO HARD ABOUT MAKING THEM ?
The zipper assembly is a problem to everyone!
Centering the teeth can be a nightmare especially in the corners. Forming nice smooth and equal curves is very challenging with zippers.
And takes it takes ages to eventually get an average result when entirely done by manually.
Unless... 
UNLESS YOU KNOW THIS TRICK
When I started making leather goods, I worked in several workshops in France and I struggled trying to assemble them by hand, it was very frustrating and fortunately I ended up learning the trick in a workshop specialized at making small leather goods, they were making a lot of zipper wallet and could not afford to pay artisan spending too much time on this single step. 
They needed, quick, consistent and perfect results. And should aim for the same if you like to make your life easier and the making process enjoyable.  
So here is an elegant solution:
Use this type of mold ! 
The zipper is attached to the acrylic surface of the mold, the side of it has a groove that holds the zipper teeth in place, this makes the centering a no brainer.  
Then, the body is attached to the zipper held on the mold
And finally the mold is removed 
The inner part can now be attached with the body part and the whole thing ready to be stitched
FULL VIDEO TUTORIAL 
---