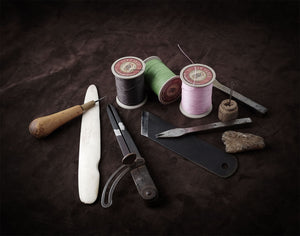 Which tools do I need for leather work?
In this video I am showing which tools are good to purchase to get started, there are not so many, but this is more or less the only tools I am using on a daily basis, I should add a stitching clamp and some saddler needles, but really, if you've got this kind of tool kit you can't really find the excuse of not having enough tools to work properly. Too many people love to collect an absurd number of tools but it seems like the more they store in their cupboards the less they really produce any leather goods. The same occurs with any other hobbyists, let's for example take photography. 
It's better get the good old basic tool set and keep plenty of time to pursue your leather mastery quest! Tools are just an extension of your hand, nonetheless, they should be of sufficient quality to follow you all your life as they will slowly shape to your hand. 
Now a day the choice is very wide, new brands are popping up here and there thanks to the internet and also certainly to the raising number of leather craftsmen. This is easier than ever to get tools, some are really cheap, in my opinion too cheap to be good and some are too expensive for what they are! So be careful! 
Watch the video and check the list of tools I recommend below
Affordable leather crafting tool kit:
http://amzn.to/2nGuJ8C
------------------
List of tools :
------------------
- Scratch awl:
http://amzn.to/2nBcFya
- Diamond shape awl:
http://amzn.to/2pq6v09
- NT cutter:
http://amzn.to/2o3wCJT
- Scratch compass:
http://amzn.to/2pq78XB
- Mallet:
http://amzn.to/2ooxETF
- Saddler leather hammer:
http://amzn.to/2omBta5
- Bees wax:
http://amzn.to/2nB3NZp
- Pricking iron:
http://amzn.to/2p3O6H0
- Small pliers:
http://amzn.to/2pqaSbu
- Crepe eraser to clean products:
http://amzn.to/2oZk0YC
- Regad electric creasing equipement:
https://www.etsy.com/shop/CraftnTools?section_id=18214546
---
2 comments